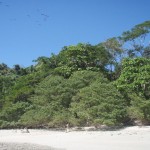 Best Costa Rica Beaches to Visit
There is no limit that separates Costa Rica from the sea in this small piece of land 762 miles of shoreline are divided between the Pacific and the Caribbean.
Beaches of the Costa Rica sun and will have the advantage of being part of a complex natural system recognized by the Ecological Blue Flag Programme, which was awarded to 56 beaches throughout the territory.
This program is implemented through the commitment of Costa Rica to sustainability and environmental protection.
What guarantees are popular tourist beaches have safe and clean enough for a good holiday.
Costa Rica Beaches are surrounded by forests with high natural diversity.
Many of them are beautiful coral reefs where you can dive and explore.
Furthermore, as the place to visit, enjoy a range of activities including: tours of the mangroves, diving, surfing, fishing trails, hiking or horseback riding.
With access to different beaches, you can enjoy the best offered by the sun on both coasts.
The beaches of hot water all year round, allowing you to enjoy coming to this country when you want. it's  diversity is, each side offers different shades and textures of sand, white, yellow, gray, black sand, the result of the constant collision of shells with coral reefs.
Vacations Costa Rica Beaches
The variety of beaches in Costa Rica will allow you to plan your vacation to suit your interests and your budget.
All will provide ideal conditions for the hassle of the city.
You have several options for staying near the coast to enjoy in family, couples or friends. As desired, you can choose between the big hotels that offer comfortable facilities, warm or stay in hotels boutiques. On the other hand, you can savor the taste of the cuisine of Costa Rica as varied and specific to each region.
From coast to another, you will find large differences in ingredients and food preparation.
A common element of all, is its excellent flavor, something that will whet your appetite and curiosity to sample the delights you'll find in this country.
Costa Rica Beaches  Guanacaste north and South
The Costa Rica beaches in the Guanacaste area, offering numerous options for adventure and relaxation.
It is a destination that meets the different needs of tourists who visit.
For those who enjoy sunbathing on the coast, they have a bright sunshine for most of the year.
The environments are varied and enjoy each of them find suitable accommodation options.
You can choose  from more than one , you will find beaches near the Santa Elena Peninsula where there are smaller boutique hotels, resorts and on beaches in the Gulf of Papagayo.
Also, you can do and to combine different activities like swimming, diving, surfing, windsurfing, fishing, beach volleyball and golf. Or simply enjoy the sun while walking on the beach.
You also have the opportunity to learn cuisine of Guanacaste, which has a strong influence over the Indians.
Local products are based primarily on corn, among which are biscuits, tortillas, rice and corn pozole, or if you are more attracted to sweet foods, you should try the popular tapes.
A big advantage is that you can quickly get to the beaches of the region, with direct flights from U.S. to Liberia International Airport Daniel Oduber, or by land from San Jose and the Mid- Pacific.
Pacific  Islands  Costa Rica Beaches Central Gulf Puntanreas
Find fun for everyone. You can start with a visit to the islands of this coast, which presents the beautiful beaches of visitors to sunbathe, swim, take a boat or live with the nature of the surrounding rainforest.
In the central area find attractive places like Puntarenas, which is remarkable for the landing of cruise that takes place in spring and the famous meals on offer, many of which are known and seafood dishes, including excellent "ceviche" and the whole fish.
Other local specialties are the "Churchill", made of different flavored milk and ice cream, "mate" or fruit salads. For the Mid-Pacific area, you will find lush landscapes which combine the sun, beach and forest, mainly where there is protection and Manuel Antonio National Park Marino Ballena.
In addition, for surfers on the beaches of Jaco and Hermosa are ideal conditions for this sport.
The night, these stations are full of fun and enjoyment for you to spend a great time. All beaches in the area may be located in different hotels that offer comfortable accommodation. You will also have access, thanks to rapid international airport Juan Santamaria, from which you can then do a road run about 3 hours to reach the desired point.
Costa Rica Beaches South Pacific.
This region of Costa Rica, has the ability to combine the attractions of the beach with wild vegetation and reefs of Caño Island, where you can also practice diving and snorkeling.
All the exuberance and beauty that nature gives off the coast, you will spend your holidays more relaxing and peaceful. This added value will find it, so pure, on the beaches of Golfo Dulce and the Osa Peninsula, because they are protected Biological Reserve and Corcovado National Park.  Access to this area can make the track Golfito or Puerto Jimenez, which will facilitate their arrival, domestic flights are made.
Thanks to it  environment you will arrive more quickly at one of the most naturally diverse country, surrounded by magnificent landscapes that make up the forests on the flanks of the beaches. This area also has road access and accommodation, characterized by a rural infrastructure that will make you feel more in touch with nature.
You will have the opportunity to experience adventure activities that can be achieved: the observation of flora and fauna will lead you to admire the unique vegetation and animals or the beautiful scarlet macaw. You can also go fishing and surfing, which fans will enjoy the leftist surge of Pavones, one of the longest in the world.
Windwards Islands Costa Rica Beaches.
Fine Costa Rica beaches will receive in this region, which can be reached by land.
By visiting the southern Caribbean with his family, partner or friends, you can admire the contrasting tones of black sand beaches and white exist in Cahuita and Puerto Viejo. Join this attractive colors, the lush vegetation that fits into the sea, in places where the beaches and forests are adjacent to each other.
You will appreciate the direct contact with the local culture. A strong influence of Afro-Caribbeans will make you a different experience.
Know the specific architecture of the region, the joy of his people, the popular mode of braids, the unique flavor of foods native to the area as "rice and beans," "pati" "plantinta" chicken with walnuts coconut and "ron don" autoctonicidad and exotic customs that originate due to ethnic diversity combining instead. All this, we can supplement it with adventure activities like surfing, fishing or diving, you also know that coral reefs are home to an incredible variety of fish.
Costa Rica Beaches Leewared Islands
The trip to the northern Caribbean may be made by means of sea or air. From June to October, you can live the unforgettable experience of watching while the green turtles nest on the beaches of Tortuguero National Park. In addition to enjoy fishing for tarpon and snook at Barra del Colorado.
Islands Costa Rica Beaches
Costa Rica offer islands to enjoy the sun, the breeze and the sea is most surprising is Cocos Island, declared by UNESCO as a World Heritage site, located 330 miles off Costa Rica and the soil can be reached by boat in about 36 hours, after consultation with specialist companies to take this trip, to enjoy the natural beauty, diving or walking in the island.
In this document, you will see amazing specimens of marine life including whale sharks, white tip sharks, tuna, parrot fish, corals, molluscs and hammerhead sharks in quantities that are difficult to find elsewhere.
Another popular island is the Turtle Island, because in addition to the beach you can enjoy various water sports.
There is also Caño Island, ideal for snorkeling in the crystal clear waters and also to know their pre-Columbian heritage.
You can not ignore the islands in the Gulf of Nicoya, which include various activities such as diving, fishing, with few benefits of travel and the natural wealth of zona.A all these islands, you can arrive by boat in a quiet road or boat.
These visits are made by specialized companies that offer everything you need to make your stay a pleasant place, as it does not exist in the hotel infrastructure.
In general, stay on the island is during the day and enjoy the activities organized for your entertainment, and rides around the island or beach games. Take advantage of all the necessary nutrients at different times of day, so enjoy while watching the vast sea that surrounds it.