Puntarenas Costa Rica Area
Puntarenas Costa Rica, in the area of its territory is a fairly narrow range, but takes up almost two thirds of the Pacific coast.
This province shows its tremendous geographical range through vibrant landscapes.
Puntarenas Costa Rica has rain forests, cloud forests, biological reserves in some of the Nicoya Gulf islands, wetlands and the famous beaches of the Pacific.
The city of  Puntarenas was Costa Rica's main port in the Pacific. Currently Puerto Caldera (16 kilometers south of Puntarenas), is the most important Costa Rican port for the arrival of cruise ships and general cargo.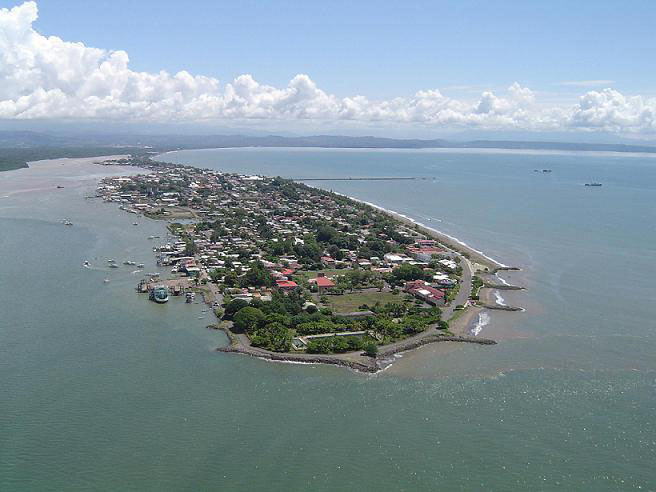 The Province of Puntarenas Costa Rica has a 11,276 Kilometers square.
The capital of Puntarenas is 130 kilometers from the province capital of Costa Rica San Jose, In this province the average temperature is 29 ° C about 29 ° F, this province is at sea level causing some flooding on some high tides
Administrative division
It is the sixth province in the country, has 11 counties and 43 districts.
Canton Header
1. Puntarenas
2. Esparza
3. Buenos Aires
4. Montes de Oro Miramar
5.Osa Puerto Cortes
6. Aguirre Quepos
7. Golfito
8. Coto Brus San Vito
9. Parrita
10. Corredores Ciudad Neilly
11. Garabito Jaco
Puntarenas Costa Rica Overview
Is connected to the rest of the country by major roads.
It also has local airports and ferry services that cross the Gulf of Nicoya.
Mining occurs in the south of the province, where gold is extracted, zinc, iron and silver.
It has many tourist attractions: beaches and national parks such as Manuel Antonio, Carara and Corcovado. It also has several biological reserves and protected areas such as Cabo Blanco Nature Reserve and the National Wildlife Refuge Golfito.
It is the province with more islands: Chira, Bejuco, Horse, Deer, Cedros, Knives, Negritos, San Lucas, Herradura, Violin, Caño Island and the famous and protected Cocos Island.
Among the crops of the area are rice, pineapple, oil palm, banana, sugarcane, beans, tubers, snuff and corn.
It also develops beef cattle, aquaculture, fishing and beekeeping.
Bounds
Its northern border Alajuela, San José and Limón, Guanacaste on the northwest by the south by the Pacific Ocean and the southeast by Panama.
History
In pre-Columbian times, the Nicoya Peninsula was inhabited by Chorotegas, while the central area was occupied by the huetares.
In 1522 came to Nicoya Spanish explorer and conquistador Gil González Dávila.
In 1524 the first Spanish settlement up: Villa Brussels.
In 1556 was built in Chomes, the second church of our territory.
In 1814 the Cortes of Cadiz awarded the title of Puerto Puntarenas Mayor.
In 1834 it was projected to move the port of Caldera, but during the administration of Braulio Carrillo, six years later returned to Puntarenas port, and port as the state and later as a free port.
In 1821 he settled in Esparza was the first school exclusively for boys.
In 1848 the population had no Puntarenas enough to be considered an independent province by constitutional law. In a special article stated that it would form a separate district to increase its population enough to make it a province.
Rivers
Some of the rivers that run through these lands are the Aryan, Lizard, Barranca, Tárcoles, Grande Térraba, General, Coto Brus, Naranjo, Baru, Parrita, Savegre, Aranjuez and Coto.
Tourist attractions Puntarenas
Carara National Park
This park is a mecca biological covers 47 square kilometers, 109 kilometers far from San Jose, and is located on the Pacific coast, southeast of Puntarenas.
Lots of wild animals find refuge in the forest and soil. Its forest cover, almost intact, ensuring the purity of rivers and streams.
Carara is known as the "Island Biological" and is surrounded by farms whose main activities are agriculture and livestock and other agricultural activities.
Dona Ana beaches whereabouts
The Costa Rican Tourism Institute built this recreational area next to the beach, in order to evict the popular beach town of Puntarenas. Located at 14.5 km from Puntarenas, a mile north of the port of Caldera. The Whereabouts of Playas de Dona Ana has fields for picnic (picnic areas), a restaurant and showers.
Gulf Islands
The port of Puntarenas Costa Rica is the starting point for tourist excursions in small boats through the Gulf of Nicoya with its many interesting islands, some of which are biological reserves.
Jaco Beach
Jaco Beach is a favorite for tourists. The gray sand beach stretches 3.5 kilometers and is located just 119 kilometers from San Jose. Offers great amenities for visitors and a very efficient transport service.
Manuel Antonio National Park
On the Pacific coast, where they are located miles of white sandy beaches, is located one of the most popular parks in the system of protected areas.
It is one of the best areas to observe migrating birds. Its crystal clear waters have made it a popular spot for diving enthusiasts. One of the most scenic parks and the main attraction are the beaches Espadilla Sur and Manuel Antonio, the latter of white sand, small waves, a gentle slope and clear waters. Visitors can have an information center, rustic hiking trails and viewpoints.
Other parks
Cabo Blanco Nature Reserve
At the southern tip of the Nicoya Peninsula, is Cabo Blanco. It is a shelter of seabirds, especially brown pelicans, frigate birds and brown boobies. A highly visible landmark and impregnable refuge for a large population of birds, is the Cabo Blanco Island, a rocky crag vertical walls located at 1,600 meters of the coast is named after the whitish guano has accumulated due to seabirds.
Reserve Caño Island Biological
This island is located in the Pacific Ocean off the Corcovado National Park. It has great archaeological significance, as it was used as pre-Columbian cemetery. You can still see some areas of stone, almost perfectly round, made by the Indians.
Islands Biological Reserves Guayabo.
These islands protect very effectively, due to its inaccessibility, large colonies of sea birds: pelicans, birds, frigate birds and brown boobies.
Corcovado National Park
Located in an area of tropical rainforests. Preserved, especially the flora, but live in it various types of animals that use it as shelter.
He is considered one of the most biologically important forests in the world. Its area is 41,789 hectares has a visitor center, a scientific research station for lodging facilities, trails and a landing field.