Cano Island Biological Reserve Costa Rica
The Cano Island Biological Reserve is located in the Pacific Ocean off the coast of Corcovado National Park on the Osa Peninsula, about 15 miles off San Pedrillo station. It was established by Act No. 6215, of March 9, 1978, with an area of ​​200 hectares in 2700 hectares and land art in the marina.
The island is very important from archaeological point of view, because in pre-Columbian times was used as an Indian cemetery.
Cultural materials are ceramic remains and objects carved in stone, including typical areas Diquis.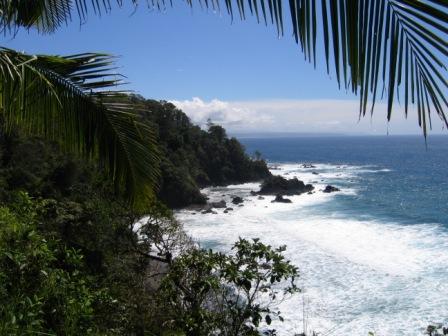 The most abundant phases in ceramic corresponds to Aguas Buenas (220-800 AD), and Chiriqui (1000-1550 cc). The presence of traces of polychrome Middle Ceramic period Guanacaste, suggest that the island was a key business putno along the Pacific coast.
In addition, to protect species of flora and fauna of tropical rainforest caraccterística important marine.
The island is covered by tropical rainforest evergreens, with about 158 ​​species of higher plants and, most conifers helchos.
These are trees up to 50 meters thick vacuum remarkable trees, also called tree of milk because of breathing white latex and can be consumed.
Other tree species characteristic of this place are the locust, wild fig, wild cocoa, rubber and garumo, where they grow epiphytes such as bromeliads and orchids.
Furthermore, on the island you can see ferns, geophytes, heliconias, bjucos, herbaceous plants and some introduced species such as mango, marñon, oranges, guavas and bananas.
 Cano Island Biological Reserve  Fauna & flora
The fauna of the island is scarce. Birds are represented by UANS esecies 10, the most common livestock heron, hawk cngrejero, osprey and the brown booby. towards mammals were observed four eyes fox, tepescuinte, some rats and several species of bats. In addition, small snakes, boas, frogs and lizards.
The island protects very important marine environments, which is remarkable for its size and species riquesa, coral reefs.
Associated with the diversity of reefs are species of fish, invertebrates, algae and mammals such as dolphins and whales.
Marine species are present in different environments such as coral reefs, rocky shores and cliffs where they live with a lot of fish, stars, sea urchins, lobsters and giant conch. The latter two species are endangered.