Tapanti National Park – Costa Rica Protected Area 
the Tapanti National Park is located approximately 35 kilometers from San Jose. It's a nice destination for a trip from the capital San Jose.
There are several walks in the cloud forest and rainforest. Here many visitors are Costa Rican.
A journey down  Macho River. You can swim in the clear water, but water is very cold.
Some guidebooks say it is a nice place for fishing, but fishing is prohibited in all national parks in Costa Rica.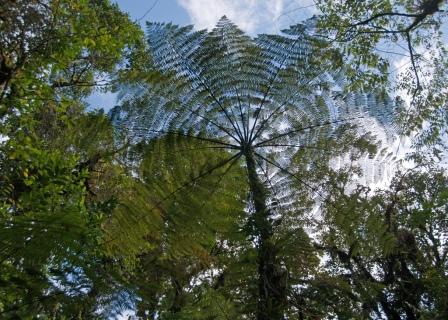 Much of Tapantí National Park is not accessible, is where most of the animals live. There ocelots, jaguars, raccoons, armadillos, agoutis, monkeys, hummingbirds, hawks, falcons, quetzals and tapirs. Tapantí is the Indian word for tapir.
Often you can see birds of rare species near the ranger station at the entrance of the park. The vegetation is composed of many oaks, alders, cedrinos, mahogany trees, bromeliads, orchids and ferns.
Go mountain bike to see birds …
The Instituto Costarricense de Electricidad (ICE) operates a dam on Tapantí. In 1972 he concludes Tapantí Hydroelectric Project is the first plant expansion of Macho River.
No places to stay overnight, camping or cooking in the park. Access to the park from San Jose is easy, it is also possible to travel here from Orosi horseback or mountain bike. Part of the access
road is unpaved. A wheel drive vehicle is not required. The road is passable throughout the year.
National Park Facts Tapantí, Costa Rica
Tapanti National Park is located in one of the rainiest areas of Costa Rica.
Tapantí means tapir in the indigenous language.
We recommend you bring an umbrella, because it is one of the rainiest areas of the country.
We are in the hart of Jaco Beach, Our Services Includes, Sport Fishing Tours, Zip Line Canopy, Rafting, Waterfall Expeditions, Private Transportation. Please feel Free to Contact us for More information.