Rincon de la Vieja National Park
Rincon de la Vieja Volcano and National Park is comparatively undiscovered gem still in Costa Rica.
Within it is the active volcano Rincon de la Vieja, an andesitic stratovolcano, one of the 5 volcanoes in the range of Guanacaste. The highest peak of Rincon de la Vieja is of 1916 meters above sea level.
Rincon de la Vieja is the easier to access of all volcanoes in the range, though still remote enough that there has been a natural wilderness, so far little negative impact on tourism.
The Rincon de la Vieja The National Park is also part of World Heritage site, the Guanacaste Conservation Area.
Rincon de la vieja this name meant in English (The old woman's Hook) so this name is referring to the legend of a young woman whose lover was thrown into this volcano by her father, and the legend says after that what happened is that she became a recluse with healing powers.
The highest peak of Rincon de la Vieja is over 1916 meters; nevertheless, the most active area is the Von Seebach peak containing a crater lake with an acid. This can be climbed.
When to visit
To visit Rincon the best times is during the rainy season (May to November) it is better during this season because the fumaroles and boiling mud pots are more active, on the other side of the crater usually cloud-covered, and so this is not the best time to hike this Volcano up to the top. If decided to do this, make sure you check weather reports and head out early during the morning so you have the best change.
Getting to Rincon de la Vieja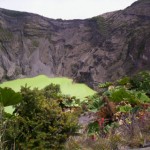 Check out our map of northwestern Costa Rica to see where Rincon de la Vieja National Park is located. It's takes just about 45 minutes from city of Liberia or Liberia airport, so if you are not driving.
You can take a public buses from liberia to the Guachipelin these buse runs 3 times a day
You can reach the top of Rincon de la Vieja, best time hike up to top is during the dry season from (February to April) that if you are trying to get the points of view, These is a 8 km trail which starts from the Ranger Station Pailas. The first 6 kms up the gentle slope, the final 2 km ascends steeply to the crater, so this is the point when you will be arriving, breathless, to see the mysterious volcanic landscape.
Beware at the top, as high winds and poor visibility are very possible.
There are no guides or guards to stop leaning over and taking into account that you stand on the rock and ash this is not recommended unless you want to dive to 200 meters in the acid lake!
You can start at the bottom warm, however is likely to be a little or a lot more cooler on top, so you should be ready and prepare with rain jacket with long pants.
Fauna at Rincon del Vieja Park
The National Park Rincon de la Vieja was created in 1973 and its remoteness has helped maintain a single healthy population, abundant wildlife.
As you ascend to the flanks of the volcano will go through different elevations, accompanied by changes in the flora and fauna around them.
Poultry
Then National Park is home to a variety of bird and other.
The species found in this area includes, spectacled owl, blue collar Goldentail, emerald toucan, black-faced solitaire, laughing falcon, whitefronted parrot, the oriole of Montezuma, red trogon, and peacock, just mention some.
Mammals in the area
Some of the Mammals found here are the coatis, peccaries, skunks and monkey's howler monkeys, white faced, also 2 fingers sloths, anteaters, and Armadillos.
Rincon de la Vieja National Park has one of larges population of Costa Rica's national flower, the orchid name (Guaria Morada)
It is recommended to ask for local advice to get the best and safest roads, as steam vents and mud Boling dot the flanks of the volcano.
Ironically this activity is also obvious why it is considered safe volcano. Volcanoes that are verbatim 'leaving water vapor' are more likely not going to have a major eruption, as it is not building up pressure.
The skirts have many well-marked trails that take you to the clay pots, fumaroles, waterfalls and swimming holes, mostly of them are around the entrance of Las Pailas in the park. A trail takes you to the summit. Another trail leads to 5 km Waterfall Cangreja, where a waterfall crashes in a bright blue lagoon. The trail leads through forests and grasslands.
Also there is a trail to Hidden Falls 4.3 km, a waterfall just a bit smaller.
This area have multitude of entertainment activities to do. of course, the hiking itself off after picking up a map from a ranger station.