Marino Ballena National Park Costa Rica
Marino Ballena National Park is located at the Pacific coast, between Punta Uvita tombolo and Punta Piñuela him, Cortez district, in the canton of Osa, Puntarenas province.
It was created by Executive Decree 19441-MIRENEM December 14, 1989. The park has an area of ​​110 hectares and 5.375 hectares of sea.
This zone was created to ensure the maintenance of critical habitat for breeding and spawning of many marine species and preserve the productivity of biological communities that inhabit the coastal zone.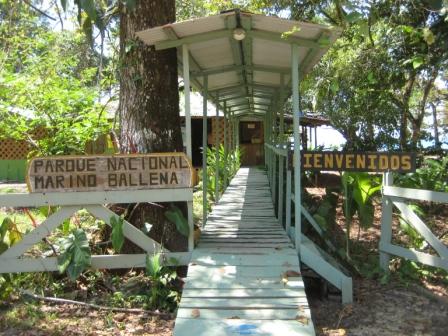 Protects diverse environments such as sandy beaches, rocky beaches, cliffs, islands, rocky reefs, coral and Punta Uvita tombolo organic.
Marino Ballena National Park is framed within the rich region of great beauty, adding value to the EU Scientific LQ, has great value for environmental education and tourism development.
One of the most important marine environments in the region, coral reefs are commonly organic denomiandos. It consist of hermatypic corals, organizations towards meeting the elements of the structure.
The structure of coral reefs is porous, with a gap of 50%. As the reef grows are formed channels and cavities which communicate with each other, a factor that allows the coexistence of many species on the reef.
Coral reefs are tropical communities that develop in a temperature range between 18 C and 23 C. Are very sensitive to temperature changes, especially exposure to sediment deposition. In this national park have been identified only three coral species reported for the eastern Pacific.
In other environments that tprotege Marine Park, the common m especiesw of the crabs, worms, crayfish, algae, several species of fish, sponges and mollusks as giant conch.
Also in the area reported two reptiles: green iguanas and basil. Among the species of seabirds are frigates, white ibis, pelicans and brown boobies.
A geological formation that attracts the attention of researchers and visitors is the Tombolo of Punta Uvita, formed by the deposition of terrigenous and biogenic sands on the crest of rock linking the head Tombolo the coast.