Jaco Costa Rica Emotions for everyone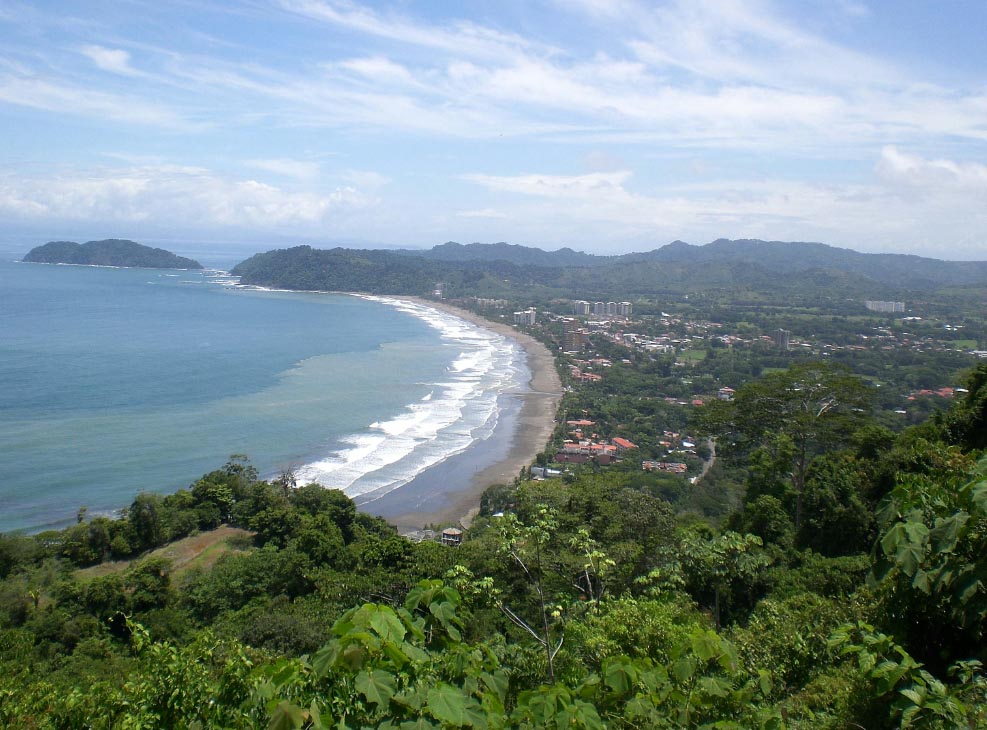 Garabito in Costa Rica continues to maintain its status as the most developed tourist region and the strongest growth.
Strong infrastructure and modern facilities to attract international investors and conglomerates.
Currently, there are about a dozen resorts and urban projects in progress.
The main economic activities in Garabito are tourism , agriculture, livestock and teak.
Tourism regions Jaco Garabito
With 316.31 km2, Garabito has a resident population of over 10.400 persons  and a floating population of about 3O, 000.
The population has doubled over the past five years, bringing a wealth of new businesses and modern facilities, and several private institutions of learning is for both adults and children.
This beautiful area, with probably the most valuable real field in the country, is bordered by the Pacific Ocean and the tropical mountain forests primary and secondary.
Nearly half of residents are expatriates Garabito.
Jaco Beach, the county seat, is the nearest town beach in San Jose, constituting a very popular holiday destination for both nationals and foreigners, and an ideal base from which to operate.
Most major attractions are within minutes to a maximum of four hours by car.
The concentration of eclectic domestic and foreign stocks are a cosmopolitan mix of cultural, social, religious, culinary and leisure-There are 200 choices of restaurants ranging from gourmet sodas local, and a wide variety of domestic and exotic foods.
There are many accommodation options consistent with the budget, ranging from five stars to intimate hideaways for those who love camping.
Jaco Surf and Attractions
There is no doubt that the sun and surfing are among the main attractions of this coastal county. There is an abundance and variety of beaches ranging from black to white sandy beach, from quiet bays to large distances towering waves.
Hermosa Beach, three kilometers from the beach in Jaco, is reputed to have the most consistent waves throughout the year, attracting surfers from around the world.
Garabito in Horseshoe Bay Resort is the Los Suenos, standing out as the only government-authorized marina in Costa Rica and more sophisticated facilities for boaters across Central America.
Infrastructure of resorts includes a five star Marriott Hotel, casino, restaurants, spa services and a golf course with 18 holes bordering a rainforest reserve of 600 acres.
The sport fishermen and international yachting are coming in large quantities to the Central Pacific, recognized worldwide for its abundance and variety of species found throughout the year in its waters, including a record number sailfish, swordfish, tuna, dorado and wahoo.
Jaco Tours
Tour operators in the area offer fishing charters and water sports.
Almost any activity that is famous in Costa Rica can be found here in Garabito.
Like most passive end, Garabito has everything: paragliding, hang gliding, canopy, horseback riding, water sports of all kinds, 4×4 vehicles and motocross, mountain biking, snorkeling, diving, scuba diving, fishing, kayaking , surfing and an abundance of hiking trails, waterfalls, including Bijagual, the largest waterfall in Costa Rica. All this activities and tours Packages can be book at Hotel Poseidon.
Canara National Park is the second most visited national park in Costa because of its high biodiversity and a refuge for endangered species Rica, some are so rare they can not be found anywhere else in the world.
This is the favorite place to see a wide variety of plant and animal life. The place considered most successful in the early hours of the morning.
Carara also has a viable population of scarlet macaw over the country, estimated to be 400 against 200 in 1980. The park is known worldwide among bird watchers.
Carara borders the Rio Grande de Tarcoles, which is famous for its large population of American crocodiles. The bridge over the Tarcoles is a privileged place to observe these amazing reptiles.
To give you a closer shipping are available, which also pass through the mangroves Tarcoles.
At the southern tip of Garabito is a turtle hatchery and a haven for Kemp's Ridley, authorized by the government. These animals, once plentiful, have been hunted to near extinction.
Through the efforts of MINAE and local population of Kemp's Ridley is the recovery.Night tours are available during the spawning season. Watch the mother turtle out of the sea to lay their eggs is an unforgettable experience.
Tourism regions
Whether you're a nature lover or a sports fan, or want to retire or get married in a tropical paradise, looking to learn Spanish or raise your family or just enjoy the holiday of a lifetime , Garabito has all the ingredients to make your dream a reality.