Jaco Costa Rica Vacation
If you're looking for a beautiful, sunny place to take a vacation with the wife and kids, look no further than sunny Jaco, Costa Rica. Jaco is an exciting vacation site with many exciting bars, delicious food, and a gorgeous beach with many four-star hotels that can be rented for surprisingly low costs! The currency used is the Costa Rican colón, which as of March 9 2018 converts to United States Dollars at the rate of 564 CRC to 1 USD! But even then it's not likely that you will have to convert your money, as many of Costa Rica's hotspots take American currency.
For the low price of 150 USD after taxes, your spouse and you can rent two bedrooms at the four-star Best Western Jaco Beach Resort, ready for a three-day holiday in the surf, sand and sun. If you want to spend a little extra, Jaco's own five star hotel, Villa Caletas will make you fall in love with the country at a meager 185 USD for those same three nights! Regardless of where you choose to stay in your adventures, you'll likely also rent a car, and as luck would have it, 97 USD can rent a beautiful Toyota Yaris for three days, giving you a great kickoff point to explore the beautiful country of Costa Rica.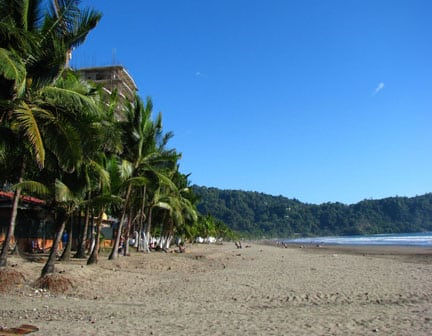 Jaco Beach is situated on the coast of the Puntarenas province of Costa Rica, and with your rented car, you'll be able to explore and travel to many of the exciting attractions and activities well know as, sport fishing, waterfalls, atv tours, zip line Canopy Tours and many others, Just fifteen minutes to the north is Carara Biological Reserve, the hotspot for bird watchers all over Costa Rica, a place where a unique mix of rainforest and dry forest provides an immeasurable variety of beautiful flora and fauna for you to enjoy on your vacation. Best off, the beautiful climate of the reserve stays warm even during the chilly months of December, for families who would rather take travel around Christmas vacation rather than the hot months of summer.
For young couples who would rather stay out at night, though, Costa Rica certainly isn't all birds and forests, though! A bustling nightlife keeps Jaco awake into the early hours of the morning with a variety of clubs and bars to choose from. On the north side of town lays La Hacienda, with blasting rock and reggae, and a cover charge of a low 3 USD! Or for those who would prefer to experience the flavor of Costa Rica's renowned music, just across the street lays Club Ole, a place where you can relax surrounded by classy salsa and exciting meringue music.
Whether you're a bird watcher, a small family, or a young, nightlife lover on sabbatical, there's one thing that ties you all together, and one thing you will all need during your recreation; and that's food! The food that you'll enjoy during your trip to Jaco is wholesome and reasonably priced. When you leave the hotel in the morning, you'll likely find yourself trying the famed Gallo Pinto, a national dish of fried rice and black beans. For lunch, you'll be able to explore a variety of restaurants like Aberdeen Angus, an upscale setting known for one of the best places to find steak in town. If steak doesn't tickle your fancy, a popular stop with both locals and tourists is Caliche's Wishbone, with its varied menu lending itself well to those with varied tastes, providing morsels like pizza, noodle dishes, and fresh seafood. Or for tourists who want to save their vacation money for souvenirs, Bubba's Tacos, despite the odd name, is full of delicious fish and chicken tacos, fresh or grilled, for prices that even the most frugal of vacation-goers would hesitate to turn down.
After getting your hotel, driving to the nature reserve, relaxing at the bar, and tasting some of the finest cuisine in the western hemisphere, you're probably asking what else could Costa Rica offer you that you can't get at home? How about surfing lessons?
Jaco is home to one of Costa Rica's most popular and most gorgeous beaches, and nobody should miss the opportunity to try a private surfing lesson with a professional, safe, and conscientious instructor like Jaco can provide! Just 65 USD will pay for a two hour session in you or your child will be taught basic surfing techniques, and most important of all, safety precautions. The best part is that incredibly low fee pays for everything!
In closing, Jaco, Costa Rica is a wonderful place for anyone to spend their vacation; young or old, married or single, party animal or family man, this city has something for you! Reserve your vacation today for traveler's discounts, and get ready for the vacation of your life.