Ecotourism in Costa Rica with minimal impact on the environment.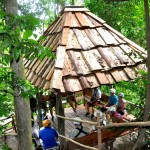 Ecotourism Costa Rica this activity generates significant income in the country grows, the protection of important natural areas, and also benefits for people to help them reduce their dependency, on other economic activities that could harm nature.
Fortunately, Costa Rica, the birthplace of ecotourism, also a place where this activity has reached its maximum level of performance and success.
This natural paradise has extensive experience shows its great natural resources of tens of thousands of visitors each year.
Costa Rica is a small country of great beauty and natural wealth, which has an area of 51,100 ² km.
In this piece of land, that has represented only 0.3% of the total area of the planet, home to 5% of global biodiversity, more species than in the United States and a greater variety of butterflies that the entire African continent, from the Central American country of 4 million people have been won recognition is justified.
In its various habitats and ecosystems coexist 13,000 plant species, two thousand species of moths and 4,500 diurnal species, 163 species of amphibians, 220 reptiles, 1,600 fish fresh and salt water and at least 870 species of birds.
In this vast landscape, Costa Rica also has several species of deciduous forests, like mangroves, tropical forests, grassy ponds, rain forests, bogs, yolillales, oak, riparian forests and swamp forests.
But nature does not stop there, because there are other areas of interest and beauty such as volcanoes, many of them active hot springs and caves, as well as pre-Columbian settlements are very important for the study of archeology in Central America that are part of the vast system of National Parks, wildlife, Biological Reserves, and forest reserves of the Country..
Currently, the state is trying to save and preserve this rich nature through the creation of a sustainable development policy, to promote the appropriate use of natural resources.
Ecotourism Costa Rica Flora and fauna
Ecotourism Costa Rica Looking at the various ecosystems that exist in Costa Rica it is easy to see that this country is one of those with the most contrasting and varied biodiversity in the world.
The foothills of the volcanoes, coral reefs on both coasts, Costa Rica has a wide variety of flora and fauna virtually unparalleled.
In recent decades, more and more Costa Ricans recognized that the biodiversity of Costa Rica is an important part of their national heritage and was a model for the creation of a National Conservation.
To ensure the survival of endangered species extinction and a dedicated National Biodiversity Institute to classify and to study the flora and fauna.
The greatest manifestation of the natural heritage of Costa Rica consists of its living species of plants and animals.
About 9,000 different species of flowering plants that grow in the country, including more than 1,300 species of orchids. Nearly 870 bird species have been identified, the more species than in the United States, Canada and the northern half of Mexico found in combination.
The country is also home to 209 mammal species, 383 species of reptiles and amphibians, 2,000 species of butterflies and at least 4,500 different species of butterflies or moths.
Although Costa Rica covers only 0.3% of the earth's surface, about 5% of the species of plants and animals on the planet are in the country.
Costa Rica Reserves
Ecotourism Costa Rica a system of national parks,  protected areas, the various ecosystems in the country, representing about 25% of the country.
These parks and nature reserves are not just places for hiking and wildlife viewing, but also special pages for particular sports such as diving, the "surfing" and other outdoor activities.
No matter what your vacation priorities, you should at least visit some national parks or nature reserves.
In addition to the national park, there are plenty of other places that have some protection, as are wildlife refuges, biological reserves, and in recent years, increases in the number of private reserves.
Ecotourism Costa Rica and some of the most important national parks and protected areas in Costa Rica:
Parks and Nature Reserves
Reserves
1    Santa Rosa National Park
2   National Park Rincon de la Vieja
3    Ostional Wildlife Refuge
4    Leatherback National Park
5    Cabo Blanco National Reserve
6    Barra Honda National Park
7    Palo Verde National Park
8    Guayabo Islands Reserve, Negritos and Pajaros Islands
9    Peñas Blancas Wildlife Refuge
10  Carara National Park
11  Manuel Antonio National Park
12  Iceland Cano Biological Reserve
13  Corcovado National Park
14  Golfito Wildlife Refuge
15  National Park La Amistad International
16  Chirripo National Park
17  Biological Reserve Hitoy-Cerere
18  Gandoca-Manzanillo Wildlife Refuge
19  Cahuita National Park
20 Tortuguero National Park
21  Barra del Colorado Wildlife Refuge
22  Braulio Carrillo National Park
23  Poas Volcano National Park
24  Irazu Volcano National Park
25  Guayabo National Monument
26  National Park Tapantí
27  Iceland Cocos National Park
28  Monteverde Cloud Forest Reserve
29  Wildlife Refuge Caño Negro
30  Piedras Blancas National Park
Ecotourism Costa Rica a country full of natural Beauties where you Can Enjoy a great Vacations in harmony