Playa Jaco Costa Rica … Vacacional  Surf Destination in the Central Pacific Coast..
Jaco Beach in  Costa Rica is only 80 miles from San Jose, and is a beautiful journey of just over an hour. Jaco is also the most popular beach in this Country.
Waves unique only offered by the city of Jaco Beach, with a diverse activities and Nightlife
If  you are a person looking for beach sun surf , activities and nightlife, you already have everything you need and more to get the holiday you expected, thanks to its proximity to San Jose, the night life, surfing, central location, unique shops, restaurants and galleries grabbing this beach is very unique.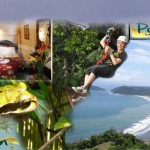 Jaco Beach is a fairly small town, but there are great deals of things to do there, surfing and body boarding are probably the most popular in the region, however there are endless adventures activities, visit the Rio Tarcoles, zip line canopy, Sport fishing, Tortuga island Cruise, Carara  National Park, Manuel Antonio and beaches just minutes away, Herradura, Esterillos, Hermosa and more.. Referring to surf is pretty cheap to rent a board for the day and take a surfing lesson.
The beach is very well known as one of the best surf spots for beginners in the country of Costa Rica, due to the good waves at high tide. The Pacific coast has large waves and fast during the green season "rainy", mainly in the months of June to September and part of October.
The new road makes a trip to Jaco Beach now even easier and faster to the nation's capital.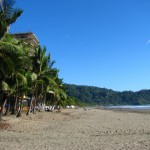 Now that Jaco Beach is just an hour from San Jose and the Central Valley, tourists are finding that a visit to the beach can be a weekend or even for the day. For Costa Ricans that this is still a new concept and it is normal to have many domestic tourists during the weekend during Easter week Christmas holiday.
Consider lying on the beach and the pool is very nice. but black sand can get very hot at noon, sunscreen is a must.
There are some good restaurants in Jaco, including some excellent and cheap drinks "soda", a traditional restaurant in the area.
At night there are several clubs and bars that stay open late… In Jaco Beach Costa Rica, surfing is a way of life, it is not surprising that the area is considered the definitive surf mecca of the Central Pacific Coast